About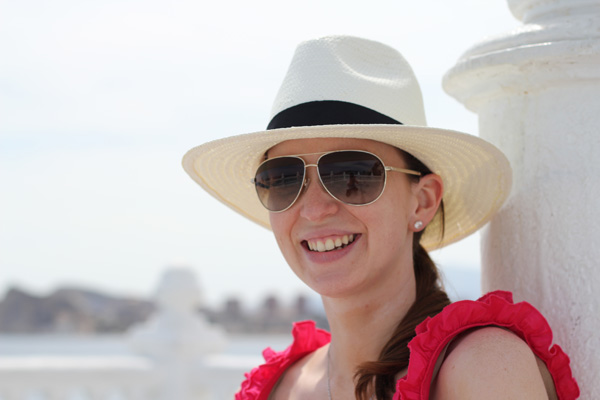 Life On Your Terms is about just that- living life on your terms not anybody else's.
The Life On Your Terms philosophy is really quite simple – life is too short to be living anybody else's life other than yours!
Life On Your Terms is a space to help you discover who you are at your core and what you really want out of your one and only life. It is a space to help you understand what is important to you and to help you get all the pieces of the puzzle together so you can live the life you imagined.
Life On Your Terms was created because I truly believe that it is possible to live the life you imagined, to live with passion and to create a life you love.
How many of us get stuck in the daily grind? We get caught in the routine of the everyday and can sometimes lose sight of what we set out to achieve in the first place. It's often all too easy. Life On Your Terms is about making what matters to you a priority. A must and a done deal. Every. Single. Day.
This is your one and only life in which you are to do everything you will ever do.
Life On Your Terms is a reminder to act accordingly. To do the things you've dreamed of. To stop someday-ing yourself and simply start creating. To stop making excuses and to start living and experiencing your own version of happiness. Whatever that is. It's a reminder that this is not a dress rehearsal. With the rushing here to there, the routine and the craziness Life On Your Terms allows you to draw a line in the sand, to consciously take control of our life and live it how you want to step by step. Fully. Simply. To live… Life On Your Terms.
So who am I…?
My name is Alyce Pilgrim (that's 'A-lease' not Alice, in case you're wondering). But you can call me Al, if you want, just like the Paul Simon song – 80s music lovers will see what I did there.
I'm driven to help people like you get clarity and find the confidence and courage to live the life that you've imagined. I believe life is here to be lived, really lived. I'm here help you to let go of the fear that's held you back and so you can start kicking serious butt.
I spent my late teens and early twenties travelling around the world working with and learning from the best in NLP, transformational leadership and personal development- not like most 19 year olds huh? During this time I learnt so much while assisting at and facilitating many a training in communication, rapport and coaching for results.
At 23, I fell in line with what I thought I was supposed to do. I joined the corporate world of suits and ties, got a well paying job and somehow my dreams fell by the way side. On the outside it may have looked like I had it together. On the inside I was empty.
I was working in a high paced corporate role and although it paid really well it didn't light me up, at all. I was tired, exhausted and unfulfilled. I was not happy and not living the life I knew I was meant to be living. A part of me felt empty inside. I wanted more. Deep down I wanted to fill my days how I chose. Not be boxed in.
I was caught up in the daily grind and doing what was expected. I was not really living or enjoying what I had created. I was functioning. Just. I was simply going through the motions of life. I craved more. I was simply existing.I craved freedom, flexibility, meaningful work and travel for longer then the designated time my boss allocated me.
A voice deep within me kept whispering and I finally decided to listen. I asked myself the question –
"If I had one year to live, would I spend it doing this?"
The answer was a resounding no. And that was the moment it all changed for me. I knew what I had to do.
I took a leap and followed where my heart was leading. I left the corporate world and now work with people from all over the world to help them get their spark back, kick butt, love their life and live their own version of happiness.
I've helped clients to create strategies to leave soul sucking jobs so they can leap into their passion business and be successful. I've helped clients get promotions, lose weight (and keep it off), triple their business revenue, have their best months financially, create their ideal relationship and take risks they never thought possible.
I combine strategy, mindset, heart and practical knowledge to help you live life on your terms. Many years experience in corporate communications and PR for one of the biggest mining companies on the planet has taught me real world strategy and systems that I apply in my business and life today.
Couple that, with my extensive background and experience in coaching and NLP and what you have is a powerful blend of psychology, mindset tools and real world experience that I draw on to help you bulldoze your road blocks to living life on your terms.
I regularly host events that uplift, inspire and support people to live life on their terms and speak on subjects such as mindset, tapping into creativity, cultivating courage, goal achievement and bringing your vision to reality.
I believe life is too short to be living anybody else's life other than your own. I have worked with people all over the world over to help them get their spark back, kick butt, love their life and live their own version of happiness.
Through my cornerstone program Life On Your Terms Intensive  I work with people in various locations around the world to help them to push through their comfort zone in both a unique and practical way.
Today my life is a lovely balance between work, rest and play. I have choice, freedom and flexibility.
When I am not helping people to re-discover their passion, purpose and zest, you can find me ticking off items from my bucket list, writing or spending time with the love of my life.

A big warm welcome from me to you!

This is your life- your one and only, big, beautiful and awesome life! I truly believe that you are destined for greatness, that those dreams inside of you exist for a reason and that you can have the amazing life you have imagined.
I hope this space inspires you to question and discover what it is you want out of this big and beautiful adventure that is life. And I hope that it will help you shed whatever is holding you back so you can step fully into your dreams. Life On Your Terms is here to support you take control of your life and live your legend.